That's why it's so hard for me to speak French
I love living in France and I enjoy learning French but I also love hiding away in my study and writing in English. It's hard to get better at spoken French when my creative world is so concentrated on English – that's what I tell myself. What about you? Are you gifted at languages? Is this a conflict you experience?
I am taking part in a French Literary Festival today. It has been set up to include writers in English – last year Nick Inman was there alone  – this year there are three of us, but the aim is to make it grow bigger and benefit more English writers.
The Book Fair – Salon du Livre at Vic-en-Bigorre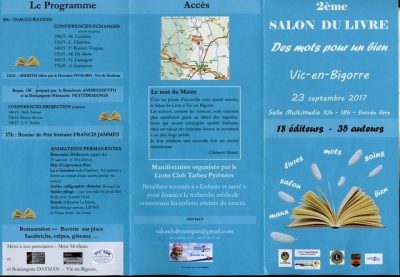 When this post arrives in your email I will be setting out my books on a stall at this book fair. I hope that if you live nearby that you will come and visit Nick Inman, June Gadsby and me. We will be delighted to welcome you. This book fair is taking place at the season of La Rentrée Littéraire and the award of the Prix Goncourt. In fact it's about the same time as the Booker Prize. I never thought about the literary season until my publisher said that there are good and bad times to try to launch a new novel. What all writers need, of course, is that 'Successful' time when we sell well.
French Literature
French literature appears to be very different to British literature in the way it is regarded. The French take literature seriously, even reverently. In Britain writers become celebs for their personality rather than writers who are celebrated for writing. Even the book covers seem less important in France, which is not to say that many of them aren't beautiful.
I am not only a writer but an artist, so I am in love with the French 9th. art. Read More and Comment …