Artist, Activist, Author: Storyteller
I write and paint because I am a storyteller. I have always made stories, though at times I've been lost for direction, identity and method. I paint to explore and share ideas and feelings.
I have lived and worked in several countries. In my art and my writing, I draw on my own stories and those of the fascinating and extraordinary people I've met.
Through my four remarkable children and my grandchildren, I am connected to other generations and enriched by different cultures and ways of being. My stories explore connections, conflict, creativity and communication.
---
---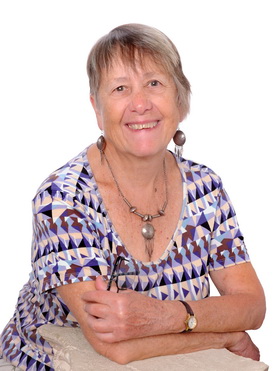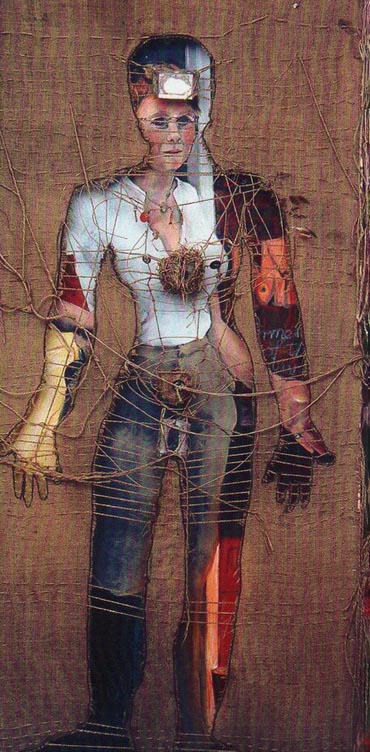 Storytelling in Art
Photo of 'Spider Woman' overlaying 'Portrait of the Artist' by Ruth Hartley Photographer: James Austin
Storytelling in Art
From Representation to Expression
I have lived most of my life in Zimbabwe, South Africa and Zambia. The land of Africa, its politics and its people, have changed and enriched my life. I learned to take nothing for granted and to ask many questions.
At first, my art was representational and often about political subjects but, after working with artists at two international artists' workshops in Zambia, it changed radically.
What I learned from Zambian artists influences the way I work today. There is no one form of art nor one way to make art. Art does not have to be permanent or inside a frame or flat on a wall or in a museum or gallery. Art can be simply about colour, texture, form, line, surface and shape. Art can also use these elements for other purposes such as storytelling.
Sometimes art is beautiful, but not always.
Why does Ruth Hartley make art?
All humans are artists. We focus too much on those who are considered exceptional. The creative and artistic spirit in each of us keeps us alive.
I make art so that people will come and talk to me about it. Sharing and communication are very important to me. My art is also about ideas and feelings that can't only or always be expressed in words.
Art is the discovery of order and pattern in life. It doesn't have to last long, but it is in everything that humans do. We walked, danced and sang our way over millennia into language, literature, science, music and art. We find patterns of meaning and beauty in order to communicate with each other and commune with the gods.
Artists are makers and discoverers. For me, art is a necessity.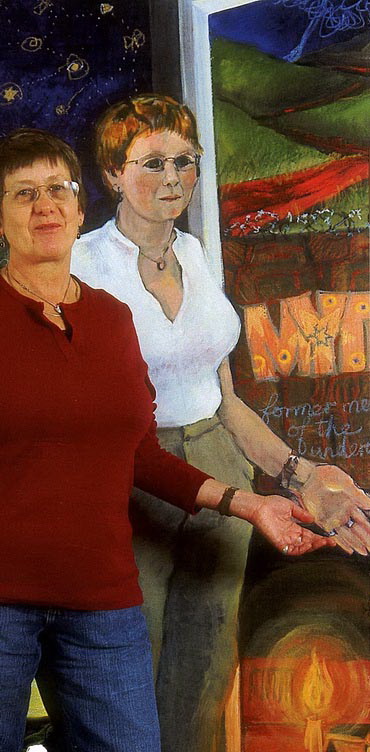 Art of Storytelling
Photo of the artist with 'Portrait of the Artist' by Ruth Hartley Photographer: James Austin
Art of Storytelling
Ruth Hartley the child drew her stories
Every child knows that pictures and stories belong together. I was nourished on illustrated stories: English fairy tales, the Grimm Brothers, Greek myths, dinosaurs and Enid Blyton. My parents frowned on Marvel comics, but once a week Uncle Lancs cycled up the dirt road from town with Eagle, Girl, and the Beano for his kids. I read them second-hand.
Like you, I too was a hero on a quest to slay dragons and free the imprisoned. We sing, dance, draw and play-act our stories as we learn to run and climb. By nine years old, I was the protagonist of my own comic strips.
My parents thought I must be an artist. They confused observational skills with artistic genius — a misconception that stalled my creative development for years. I now know how to use these skills in writing and how to embed emotion in art.
Ruth Hartley the adult learned to use words
I went to art school in windy, old-fashioned Cape Town. Not understanding agitprop or Picasso's Guernica, I gave up painting for anti-apartheid politics. I was too naïve to understand that art can also fight for freedom.
The truth was that I hardly knew myself and had not yet acquired good enough art skills to use them effectively. Circumstances also left me without like-minded friends or mentors. I was afraid and vulnerable, and the secret police terrified me.
Later I learned that creative people and activists express themselves through music, art and literature. We don't have to be the best in the world; only our best as artists, writers and ourselves.
Writing and art feed each other and me. Sharing them can turn the world into a street festival.
Join Ruth's mailing list
Receive art and storycraft news and insights; ask questions; give feedback; chat with other readers.