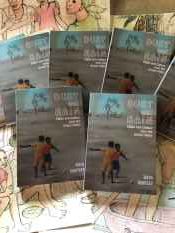 Where do we go and what happens when we open a book and read a story? Is the story only the product of the printed words on the page or do we create a new personal magical world that goes beyond the print? Where do our thoughts and imagination come from? Such gifts aren't given us by schools even if good teaching can enhance them.
What is a story and where do they come from?
My story – Dust and Rain: Chipo and Chibwe save the Green Valley – has just been published but I've written many other stories. Did they come out of my present physical experiences or originate in my childhood history? Are they just dreamed up? Did I invent them or discover them? What happens to you when you read them? Will your reading of my story be different to the way another reader might see them or the way I planned them? I'd love to know what you think.
Read More and Comment …