A lovely day, a friendly gathering and a picnic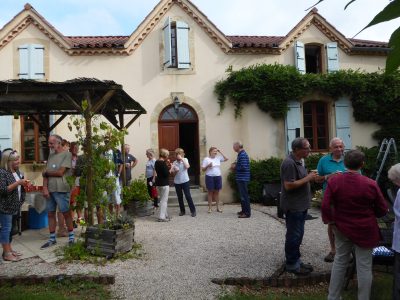 It was a picnic about  different ways of publishing books that was held on a lovely hillside venue at a private home – many thanks to our hosts. It was well organised by Jane Sherwin of Cafe Matin and I was delighted to be one of those asked to take part.
Three writers and the man with the figures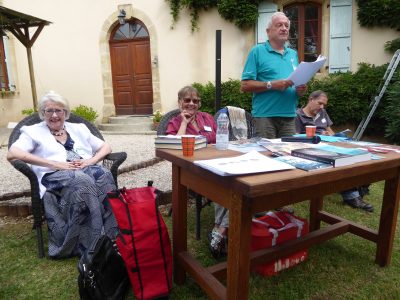 We were three writers with very different approaches to the problem of finding publishers. Though we have three  different experiences and solutions there was a couple of things that we all agreed on – writing and publishing are very hard work and writers do not make much money from their books. Backing us up on this point was John Corley who had the figures from several self-publishing firms.
Ruth Hartley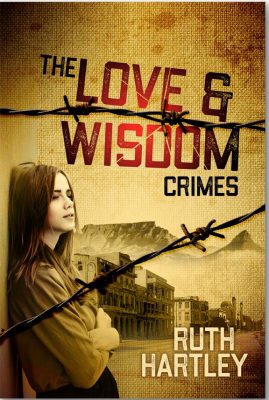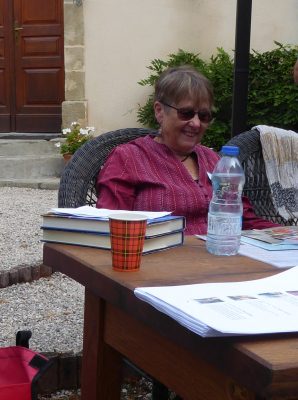 In my last blogpost I joked about my dream team for the publication of my book. The reality, however, is that indie publishing is definitely the way to go. Standards of indie publishing and of indie writing can be very high but, of course, the writer has to pay every step of the way for professional editing, design, typesetting, marketing and publicity. The world of indie publishing is changing so fast that you have to keep on learning to keep up. I will publish my new novel, The Love and Wisdom Crimes, just before Christmas under my own imprint ATypicalBooks.com. I would also remind you that I've published two other books and would love it if you read and reviewed them or simply made a comment here. They are The Shaping of Water and The Tin Heart Gold Mine 
June Gadsby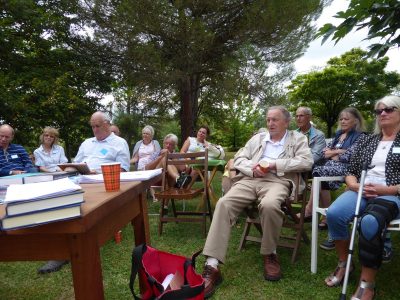 June has been writing multi-genre novels for many years and has successfully published more than 25. Her most recent is The Affair, and A Touch of Magic has now been translated into French. She is currently working on a new novel called Forbidden. June is an indefatigable writer but as she pointed out, being successfully published has not given her much in the way of riches! You can find June's blog and website here. I did enjoy June's novel Rosa very much.
Nick Inman and Clara Villanueva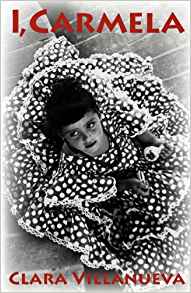 Nick's experience and writing career is quite different to June's and to mine. Nick is a travel writer and has also published A Guide to Mystic France. Nick's wife Clara Villanueva is also a novelist and it was very interesting to hear how Nick had undertaken to do all the work of typesetting, design and publishing for her books. As Nick said, it does take a lot of time to do it well and I must say that both I, Carmela and Les Cheveux de la Gitane are beautifully produced. I do recommend, I, Carmela – it's a great read.

My Dream Team is John Corley
John had put together comparative figures for indie publishing. If you like he did the arithmetic of the costs of  writing and reading. As  I said at the end of my  brief talk, when you buy a book you are getting a real bargain. The amount of time spent writing it, and the costs preparing it for publication mean that many books are a gift to readers. I did however beg all readers of my books – our books – or any books that you've enjoyed, to please, recommend them, share them, review them and look up the writers and the books online and on Amazon. Writers need, love and appreciate all of you readers! Thank you! Thanks also to Brian and June Gadsby for the photographs!
Links for writers and connections to publishers
Nick, June and I will all be at the Salon du Livre at Vic en Bigorre  next weekend, 29th., so please do come by and say hello. There's a lovely bookshop in Vic called La Litote. As promised, here are a few of the links we mentioned at the picnic for people who may want to write or self-publish. Advice from  the following:
Writing encouragement and how to do it from:
Mentoring and critical reports:
Cornerstones
Encouragement.
Nanowrimo National Novel Writing Month:
Self-Publishers: