Women's Art from the Lechwe Heritage Collection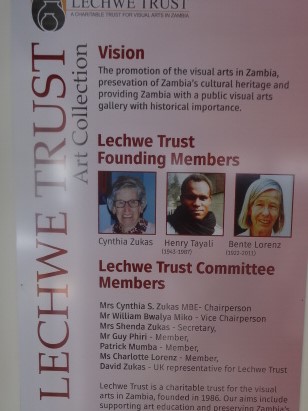 The Lechwe Trust in Lusaka, Zambia, has an exhibition of art created by women from this Sunday, 8th March, International Women's Day. I'm honoured to be included in it and to share the space with so many other artists I know and admire. There are a total of 32 artists – many with a long creative history in Zambia. There is a list at the end of this post.
Difficult Women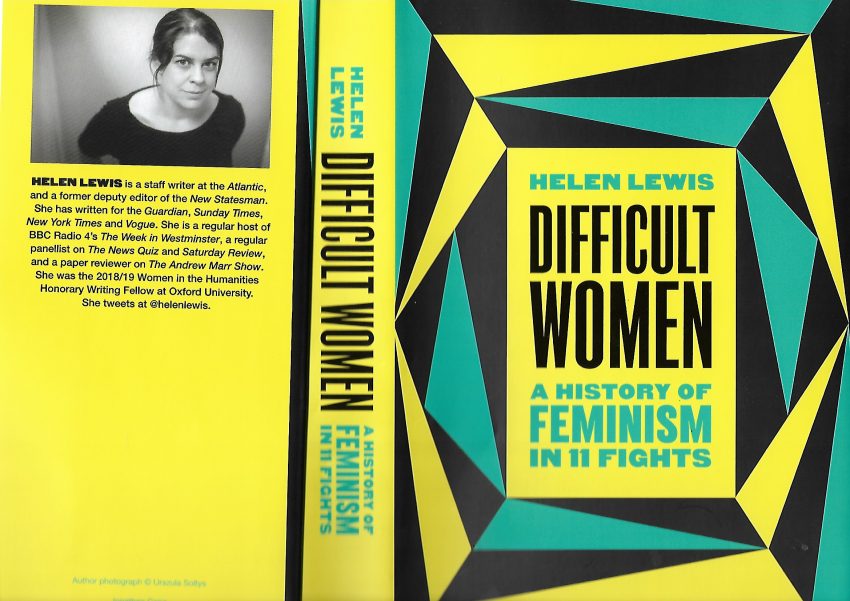 At the same time in Gaborone, Botswana, there is an exhibition titled Difficult Women in which two more artists I know, Veryan Edwards and Neo Matome, have their work in a shared exhibition. Yesterday a book with the same title arrived in the post for me. Difficult Women by Helen Lewis is A History of Feminism in 11 fights. I already know that I love this book. As a feminist, I feel very much part of some of the fights that Helen Lewis describes. I'm proud to be a difficult woman too. Difficult women are those who like to solve problems. Working at the task of empowering artists – both men and women – in Zambia wasn't easy. At first, this task fell to artists and believers in art, like Henry Tayali, Cynthia Zukas, and Bente Lorenz . There was a cost to pay. In my experience working to support artists is done often by other artists and at the cost of having less time for their own work. In my case, I had one solo exhibition before I started work at Mpapa Gallery and another 15 years later after I left Mpapa Gallery. What I did find was that those years working for other artists enriched my art and taught me more than I could ever have learned at an art school
Art and Feminism in Zambia
Where and when did Feminism start in Zambia? Where were the first female artists? There were always women in Zambia and so there were always feminists and female artists in Zambia too, but not necessarily known. Zambia's relatively brief colonial period first disempowered all Zambians but Zambian women remained disempowered by the law and their lack of access to education and by the attitudes of Zambian men after Independence. Painting landscapes was once a proper occupation for colonial women who could spare the time from their duties as wife and mother but after Independence the women who stepped up to support art were of very different and radical mettle as artists and facilitators. After Independence, Simon Kapwepwe, the first Vice President, wanted to resource and develop art and culture in Zambia. That hope immediately met huge barriers. Zambia was a Frontline State in the wars to end colonialisation in Southern Africa and there was soon no money available for art. This meant, sadly, that the Art Teachers Course at the Evelyn Hone College lost its dedicated and talented staff
The female empowerers of art in Zambia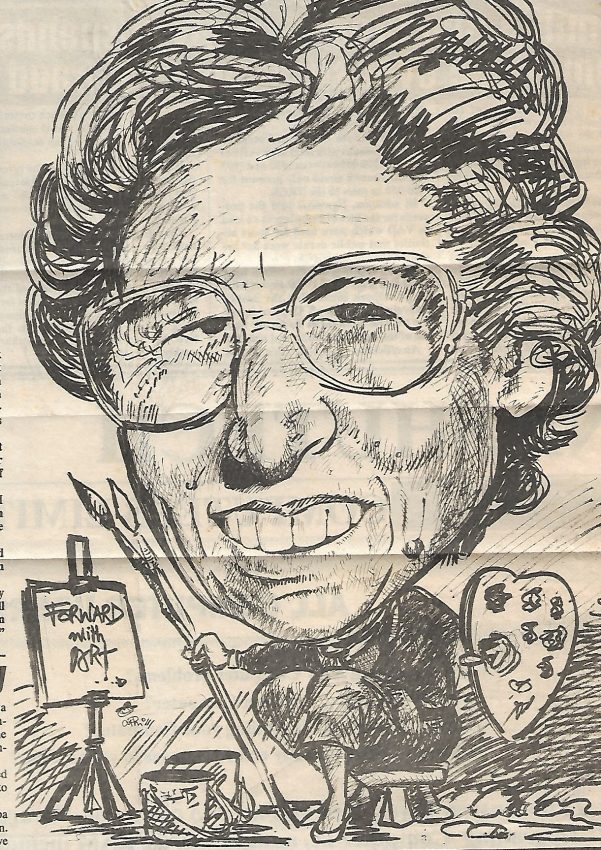 So Cynthia Zukas and Bente Lorenz stepped into the gap each using their skills and their contacts to support artists. Bente giving studio space to sculptor Tubayi Dube, but also working with female potters and Cynthia working with printmakers on her own equipment. Joan Pilcher, an art student from the Evelyn Hone, and Heather Montgomerie, an art graduate from Glasgow, set up Mpapa Gallery. The artist, Gwenda Chongwe, and Diana Fynn opened Zintu Crafts and had an outreach programme to support craftworkers. The global art world was very different then. Probably over 70% of art students were women, but market success and fame went always only to the men. Two-dimensional easel art was the dominant form and Western traditions the norm. Those Zambian artists fortunate enough to have art training and a job teaching were men such as Shadreck Simukanga, Godfrey Setti, Elijah Zulu, and Lawrence Yombwe. Agnes Buya Yombwe, Lawrence's wife, also a teacher and a superb and unique artist, would later set up Wayi Wayi Studios and herself become an empowerer of artists.
What Mpapa Gallery achieved
Life was tough in Zambia when I began work at Mpapa with Joan, Cynthia and Patrick Mweemba and it got harder for everybody. We had men come to the gallery and tell us they had no work or food so they had decided to become an artist. They used any paint or coloured mediums they could find, cotton instead of canvas, coffee, tea and sand to create texture. They taught themselves, they plagiarised other artists and photographers, copied wildlife artists, learned from Senegalese and Congolese "masters". They worked hard. There were no women among them. Mpapa existed to foster creative people regardless of their education and this we did. We were not there to sell cheap or tourist tat, however, so we had to become an educational resource as well as a gallery explaining the importance of quality of work, technical skills and the problems of marketing and intellectual and creative rights. We did not tell artists what kind of art they ought to make but told them not to be sexist. When we drew breath a few years later we realised that among the many women artists we exhibited there were no black Zambian women. That had to be put right and we immediately began to work on it.
Workshops and Triangle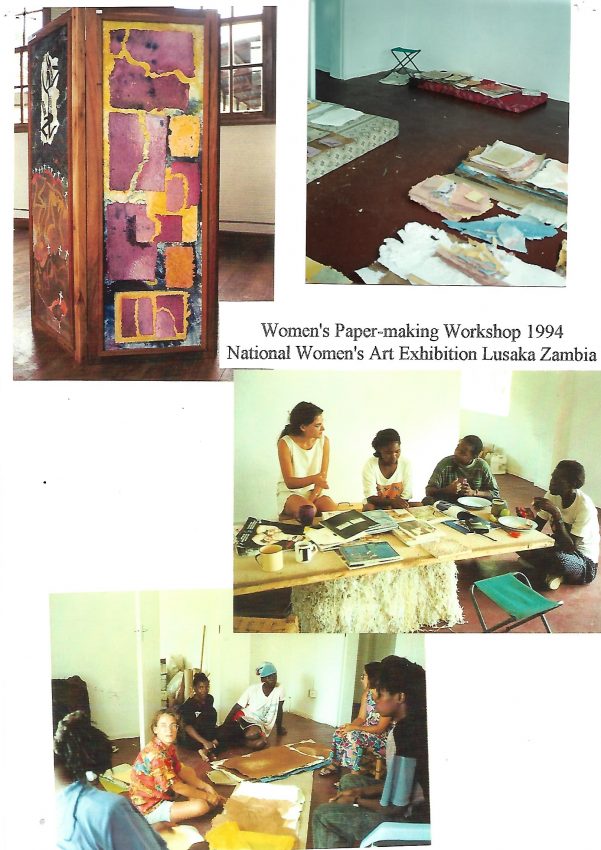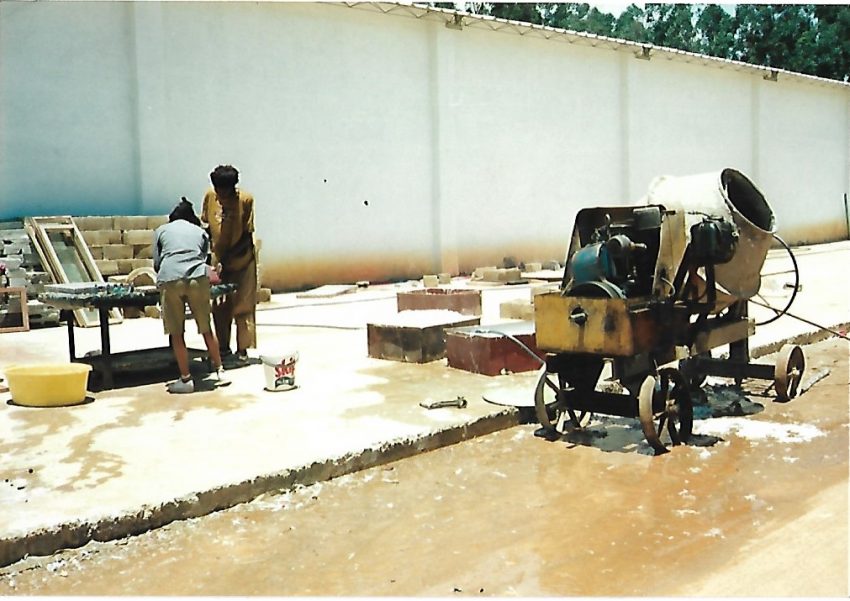 If you have a good idea you are never the only one. Two younger artists, graduates of the Emily Carr art school in Vancouver, Canada, Laurey Nevers and Jocelyn Banyard were busy with the same idea. They organised a seminar on Women's Art which for some strange reason I missed. I finally connected with them and took part in their well-organised paper-making workshop for women which resulted in the Women's Art Exhibition at the old Lusaka Boys' School. By then Mpapa Gallery and I were facilitating the first Mbile Triangle International Artists Workshop in Zambia. These brilliant workshops required, as far as possible, parity between women and men artists, experimental work outside the pressures of the art market and dedicated commitment to the workshops from the participants. Veryan Edwards and Neo Matome have also participated in Triangle Workshops which is how I know them and their work. From out of these workshops a rich tradition of women's art was begun in Zambia and many of the artists whose work is at Lechwe today then took part in the Mbile and similar Triangle workshops. Many were exhibited at Mpapa Gallery. For me personally, coming from the 1970's Women's Movement in Britain it is a vindication and a moment of triumph to see this exhibition take place. Thank you Lechwe Trust! Keep up the good work of making art all you female artists!
Women artists in the Lechwe Trust Heritage collection exhibition
Carol Aslin, Barbara Ballachey, Aase Marie Brun, Laura Chimovitz, Wajipha Chongwe, Gabriel Ellison, Pam Guhrs Carr, Ruth Hartley, Angela Kalunga, Tesaro Kirby, Bente Lorenz, Lilian Magodi, Julia Malunga, Meta Norheim, Haimbe Milumbe, Therica Miyanadeniya, Caroline Miyoba, Mulenga Mulenga, Felistis Mumbi, Esnart Mweemba, Kate Naluyele, Laurey Nevers, Angela Ninda, Margaret O'Callaghan, Margaret Plesner, Dada Qgam Coinx'ai, Bernice Schwartz, Alison Street, Nukwase Tembo, Vabdita Varjangbhay, Agnes Buya Yombwe, Cynthia Zukas