A very pleasant and successful day
I thoroughly enjoyed myself and sold some of my books.
I started the day slightly bemused as we had just returned from Paris rather late the night before. Nick Inman, Clara Villanueva, myself and June Gadsby had a table together for our books in English and Spanish. This is the second year that there has been an "international books" corner. We all hope that it will continue to grow. June's book aroused considerable interest – as did Nick's and Clara's
The Book Festival Inauguration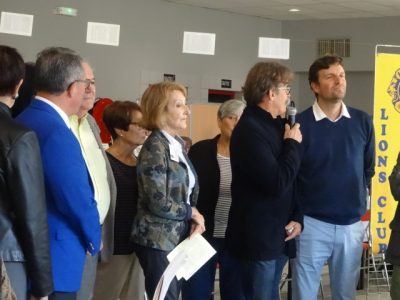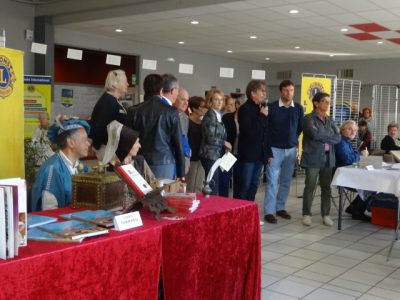 The event was well organised by Marie-Clemence Duguet with the help of the Vic en Bigorre Lions Club and its many hard working members. We started with coffee at 9am and had an apero and lunch provided at midday.There were speeches from Marie-Clemence and several other speakers. As you can see one of the tables had books about the history of Vic en Bigorre with people in the costume of the time.
Jazz music at lunch
The pleasant atmosphere of the Literary Festival was made by its sense of community and the helpfulness of everybody there. We had lunch to jazz played by two young students from the Marciac music school. It is typical of France that events like the Marciac Jazz Festival enrich the cultural life of the village and locality all the year through. One of the young saxophonists was Nick and Clara's son Luca. La Litote, the Vic book shop had a stand. There were many children's books with their writers and illustrators, there were books of special interest and writers passionate about their subjects and their stories. There were readers and book buyers – I had the great pleasure of meeting someone from my mother's hometown who bought one of my novels. Of course I spent money on books too!
Napoleon's soldiers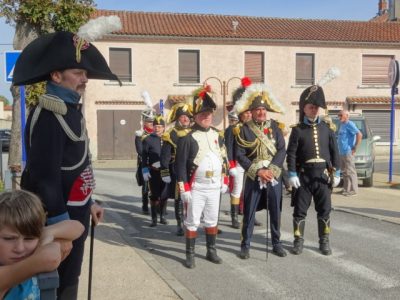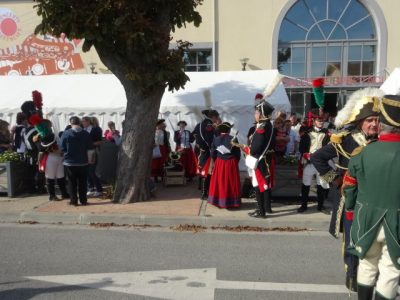 The day ended with a gun salute from Napoleon's army. It was a hot day and its hard to imagine an army marching any distance in these elaborate and warm wool uniforms with their medals, feathered cockades and guns en route to meet Wellington at the next village and the battle of Maubourguet.