Imprisoned minds in colonised bodies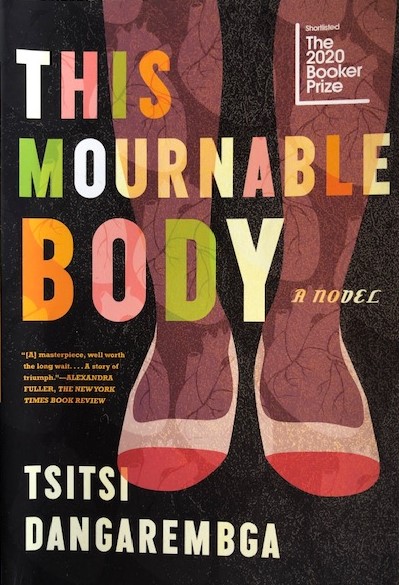 Tsitsi Dangarembga and Julie Barnes were arrested on 31st July 2020 for walking down a street in Harare carrying placards that simply said "We want better. Reform our institutions.". They were convicted on 29th September 2022 and given suspended sentences and fines for inciting violence. Dangarembga is a writer and filmmaker who has worked with her friend, Julie Barnes. Tsitsi Dangarembga and I were born in the same country, but grew up in different worlds where our bodies were colonised by a racist government that imprisoned our minds in opposing realities. Tsitsi Dangarembga helped to liberate me by writing her first book Nervous Conditions. I wept with relief when I read it. That was in 1988. I should have thanked her long ago.
You may wonder what on earth I mean
It's very simple. As humans, we are a joint enterprise and we live and die by agreement with each other. Fundamental to that is the idea that humans are equal. If we label people as 'other' and imprison them into categories of class, race, religion, and ability, we confine ourselves by those same terms. In other words, we are not free if any other person isn't. This doesn't mean we have to like the other person or approve of them but human rights belong to every human and are indivisible. From my youth I believed in this and worked and lived for it, but privileged as I was, I needed other people to be free and equal before I could live in freedom. All of us need the validation of other people. When Tsitsi Dangarembga wrote Nervous Conditions she didn't write it specifically for me – Ruth – but its existence was a powerful statement and proof of our shared suffering, humanity and creativity that was personally liberating for me.
Nervous Conditions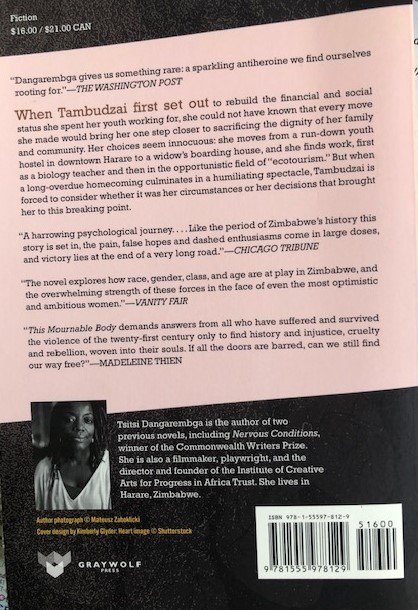 It's a very good book by a very good writer. Dangarembga was young when she wrote the book and so she chose to write from the point of view of Tambu, a Shona child in Rhodesia. It's a clear-eyed portrayal of what it is to be a family under colonisation making compromising decisions about education and survival and the costs that are made evident in the bodies of the protagonists. Growing up in that same environment with some of the same pressures about family and education I was witness to such a story when a Shona family visited my stepfather to ask for help with the education of their children. I was privileged by my white skin – I was able to get scholarships for university even though I had to supplement them by working every holiday – but we were too poor to help anyone else. Nervous Conditions reached out to me across those past differences and failures. That same clear-sightedness and intelligent writing are shown in Dangarembga's excellent book, This Mournable Body, and my painful visit to a confused Harare in a disillusioned Zimbabwe this year makes reading it an intense and emotional experience. Dangarembga's second book, The Book of Not is a sequel to Nervous Conditions, while This Mournable Body continues Tambu's story.
Writing the body – This Mournable Body
Dangarembga writes about the inescapable body that we each inhabit. It raises many questions for me about what it is to be human. Is your body a prison you inhabit and, if so, how can you or should you escape from it? Can you escape from your body by dreaming, or only by dying? Does your body contain the whole 'you' that you believe you are? Imagine you live in a long-ago world without mirrors where you only see yourself in and through the eyes of another person. What did you know about yourself then? How are you reflected in a world of mirrors and selfie images and are you pleased to see yourself outside yourself? Are we perhaps prisoners of our minds because we are limited by the bodies we have? Can we free ourselves and our minds?
Writing our way to freedom by writing a body of work – The Book of Not
Perhaps writers, artists and musicians are shamans or spirit guides who communicate matters of significance between and for people. I'm not for one moment suggesting that this makes creative work something superior that belongs only to unique people and geniuses. I think humans are creative creatures, though not the only ones on the planet. On the contrary, arts of all kinds are ordinary and essential for all humans – think of the enormous pleasure we all get from the poetry and music of songs. Breathing, walking, singing, dancing and making art and storytelling are what humans are for. Take any of those things away from us and we are the lesser for it.
Imprisoning writers and artists is an act of tyranny
Governments that oppress artists and writers, that censor, ban, silence, imprison and kill creative people and must be opposed and challenged whether they are in Iran, apartheid South Africa, or Zimbabwe. Please support the organisations like PEN and Amnesty that work on behalf of freedom of thought and freedom of the press. Dangarembga, herself, was awarded the PEN Award for Freedom of Expression.