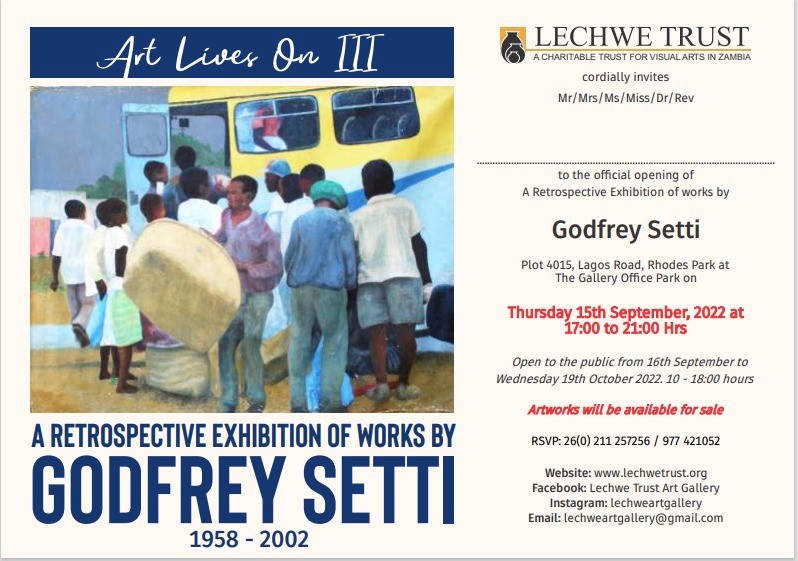 Godfrey Setti
In 1984 Godfrey Setti asked me if he could exhibit his paintings at Mpapa Gallery. I remember that occasion so well. Godfrey was a gentle and charming young 26-year-old and I had just begun work as manager and was finding out exactly what that entailed. We were both facing new experiences, though coincidentally we had each just completed Art Diplomas. Following my degree in Fine Art at Cape Town, in 1981 I had completed a Post-Graduate Art and Design Teachers Certificate at Middlesex University while Godfrey followed his teacher training with an Art Diploma from the Evelyn Hone in Lusaka. Our lives had been different. We were, however, both born in Africa and we were both passionate about art and would become friends over the next ten years.
1984 was a different world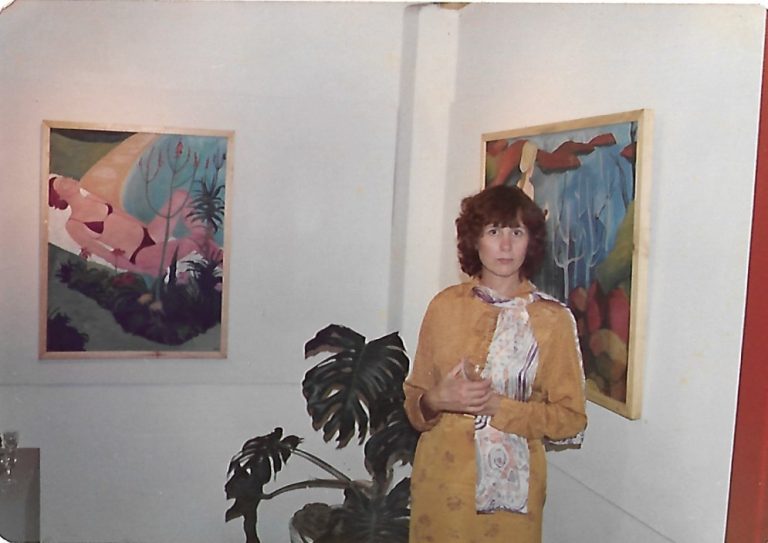 I cannot stress enough how different being an artist and running a gallery in Lusaka was 38 years ago. In 1984 Mpapa Gallery was the first private art gallery in Zambia. There was no internet, no computers, no Facebook, no World Wide Web. Mpapa Gallery sent exhibition invitations to postal addresses that unsurprisingly largely belonged to white people. They were, after all, more likely those who bought art and had walls on which to hang it. Exhibition catalogues were typed and xeroxed. You won't know what that archaic system was. Pilcher Graphics made a photo card for each exhibition and DB Studios delivered it with my voice-over to the new Japanese TV studio.
Art, buyers, collectors, makers and viewers
Zambia had a small national art collection but no national art museum or gallery to help expose Zambian art or shape cultural development. Despite the tremendous efforts of Joan Pilcher and Heather Montgomerie when Mpapa first opened, it struggled to attract Zambian artists and art collectors in spite of support from Henry Tayali, Barbara Masekela and Bente Lorenz. To understand the reasons for these differences I would have to explain the history of colonialism and art elitism. There isn't space here and the books about it are still being written. Art history was still taught and perceived as a linear progression, moving from primitive African to sophisticated European and this false narrative had a killing effect on both the making and marketing of art. Zambian art had only been commercially viable as tourist trade. Smooth wooden and stone forms of African bodies and animals sold easily – something that infuriated Henry Tayali and explains the current debate around Frank McEwen and Shona sculpture. This was the world in which Godfrey Setti wanted to make art in 1984 and in which Mpapa Gallery was trying to make changes. Godfrey Setti rose splendidly to that challenge and so did Mpapa Gallery.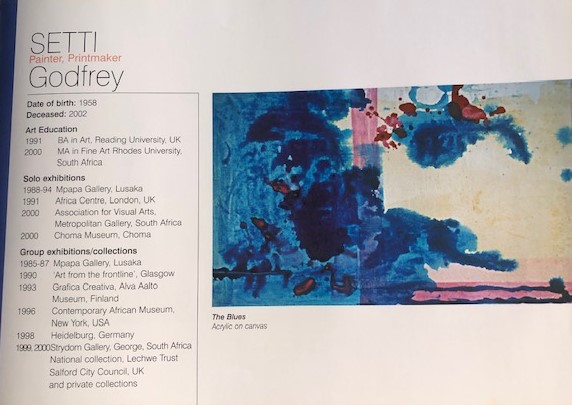 Why do we love or hate art?
How do we judge paintings? We choose and perhaps, buy, paintings, that attract us or have meaning or arouse feelings in us. We may describe some as beautiful. How do we arrive at these opinions? What shapes our personal  'taste'? Is this a universal standard of quality and can it, should it, be imposed on other people? How do we acquire culture?  To be simplistic I could say that Europeans see their culture as an inheritance from the past to be worshipped or possibly challenged, while Zambian artists told me repeatedly that tradition is something that they make in the present. It may be cognisant and respectful of a past, but art, music, dancing and performance are made in the now. Whatever your opinion, in every society, culture is in constant flux, or else it is dead. In urbanised Zambia, people may lose touch with their village roots, but reshape its culture to suit their new needs. By 1984, however, the two cultures of British colonialism and African tradition were deeply enmeshed in ways that can only be untangled in a time-travel fantasy.  
How Mpapa Gallery saw its role in Zambian art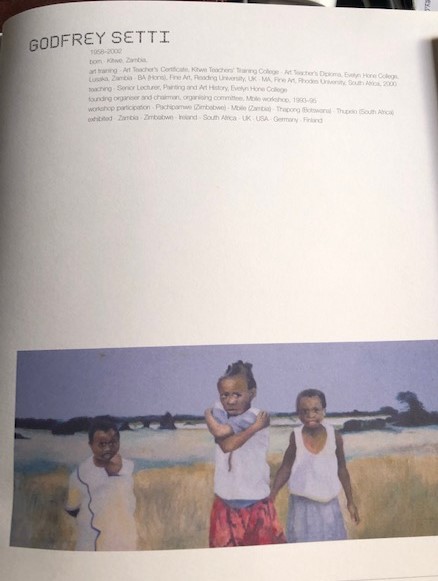 Joan Pilcher, Cynthia Zukas and I saw Mpapa Gallery as the beginning of an opportunity for Zambian art and artists. We planned that it would become financially viable and have a salaried Zambian manager, but as we were careful to take the smallest commission we could – just enough to cover the running costs, rent and pay the gallery staff – we found those two aims were incompatible. We had to continue to act as volunteers and could not hand over to a paid manager without state aid or financial patronage. We agreed to support artists with technical and professional advice, but we refused to impose one style on anybody, even if it was possible to rate one higher than another. Our success was evidenced by the wide variety of artists who exhibited at Mpapa and the number who managed to make a living from their art.
Godfrey's first meeting with Mpapa Gallery
The first painting that Godfrey brought to show me was a perfect illustration of the problems I've outlined so briefly above that both Zambian artists and Mpapa Gallery faced then. Godfrey had chosen to make a copy of the famous kitsch painting of a smiling African child eating watermelon by Vladimir Tretchikoff. Given the taste in art at that time Mpapa Gallery could have easily sold it, but that was not our job or the right thing to do. Neither was it my wish to diminish Godfrey's passionate ambition and evident talent. I had to explain plagiarism to Godfrey, which he quickly grasped and then I asked him to come back soon with his original work. Godfrey did. We exhibited it and it was the start of our friendship, Godfrey's many exhibitions at Mpapa Gallery became the ground on which Godfrey built his successful career.
Godfrey Setti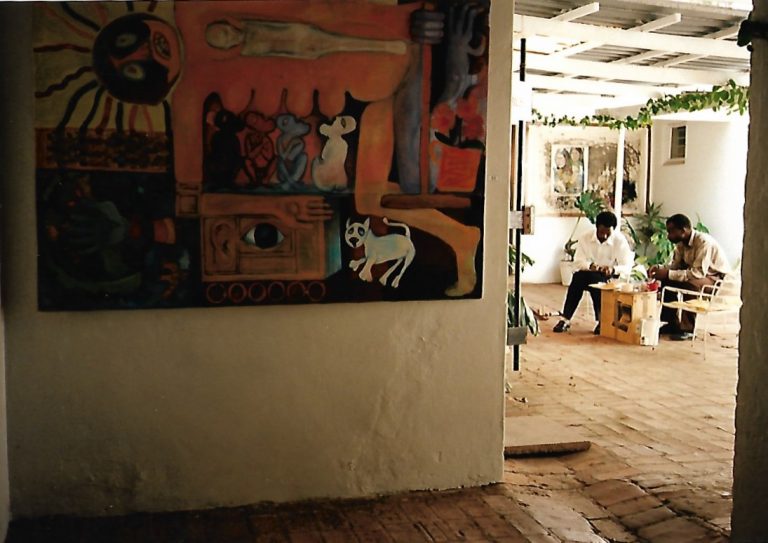 It is now twenty years since Godfrey died and it is still enormously sad for those of us who knew him and worked with him. I remember meeting him and his family when he was studying at Reading School of Art. I remember his work to make the Mbile International Artists Workshops a success and his kindness and support when I had my last exhibition at Mpapa Gallery in 1995. Godfrey was a bridge builder in the sometimes fractious art world of Zambia. Mpapa Gallery's place was unique in the southern Africa SADC region because Zambia was poorly provided at that time with galleries, art schools, state art institutions and art trusts like Lechwe. We became the go-to place for organisations like the British Council, the Mayfest, Frontline Africa, the Triangle Trust and many other organisations and embassies to find out about Zambian art. There were times when our role was misunderstood or regarded with suspicion, as few Zambians knew at that time what a gallery was supposed to be or to do.  In these circumstances, Godfrey's help was a blessing thanks to his lovely nature. It is very fitting that Lechwe Trust is holding a retrospective of Godfrey Setti's work. He was an artist who did so much for art and for art education in Zambia.