A Casualty of Power by Mukuka Chipanta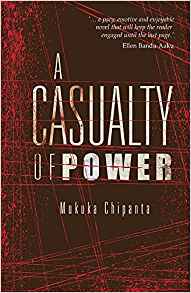 A Casualty of Power is an excellent action story that I simply couldn't put down. It is well told and well structured and so engaging that you have to read to the end. It's published by Weaver Books, Zimbabwe and Gadsden Publishers, Zambia 2016, 206 pages, ISBN: 978-1-77922-297-8
The hero's plight
My heart was wrenched by the plight of the hero, Hamoonga Moya, who is a naive and honest young man with a gentle disposition, forced by circumstances of poverty, and a chance meeting with a attractive, feisty young businesswoman into a devastating encounter with a brutal politician. Hamoonga experiences the horrors of being a victim of a corrupt political system where those in power take no responsibility for the welfare of those they govern. The suspenseful plot constantly surprises, but never for a moment feels contrived or unlikely.
Zambian life as it is lived today
Mukuka Chipanta takes you right into the heart of life in Zambia and makes you feel that you know its people and understand how they live and survive against the odds to protect those they love with diligence and courage. It is obvious that Chipanta knows what he is writing about very well indeed. All his characters are as large as life and are believable in a way that one would normally expect from a writer with many more years of experience. The book paints a brilliant picture of the country of Zambia from inside the experiences of its protagonists. You are entertained and you learn a great deal about Africa.
It's a short novel at just over 200 pages which is a good sign from a first time novelist, but that's not because the story is skimpy or simple. You have to admire a writer who tells a good story without wasting words. It is full of fascinating, well-rounded characters with sympathetic back stories. It is economically told and doesn't hold its punches. It tackles head on the problematic impact of China and Chinese exploitation in Zambia.
A  writer with a future
Chipanta clearly has a future as a writer. It is exciting to see a new novel set in Africa which is as interesting as this one. As a writer rather than a reviewer myself, I can't but help see novels from the writer's perspective. This is especially true as I also write about Africa. One hopes that one is not writing for a tiny national readership but for all people who like to read books. Without doubt this is a story that I would highly recommend to any readers of the English language. It should be widely read in all anglophone African countries, many of whom would instantly relate to the situations in which the characters find themselves.
I do have to say, however, that it is rather a shame that the cover does not do justice to the book. This novel needs a cover as exciting as the story. I, myself, see this book needing an image that is as dramatic in its own way as Edvard Munch's "The Scream".
Zambian writers of note
On the excellent form of this book I think it is a given that Zambia and its writers deserve much greater visibility and recognition. For references about the context of Zambian literature there are links to academic studies by Ranka Primorac and Cheela Himutwe K Chilala. Once again I must mention Tanvir Bush's brilliant novel, Witchgirl. There are many autobiographical books by Zambians like Vernon Mwaanga  and Jane Vhlahakis. The best known are Alexandra Fuller's Don't Let's Go to the Dogs Tonight, Scribbling the Cat and Cocktails Under the Tree of Forgetfulness.
I personally loved Dominic Mulaisho's important novel The Tongue of the Dumb and Kapelwa Musonda's brilliant Zambian satires. Both writers have influenced me and what I write about.
Another review of A Casualty of Power by Mukuka Chipanta
An excellent review of Chipanta's book by Stephanie Lammert can be found here.