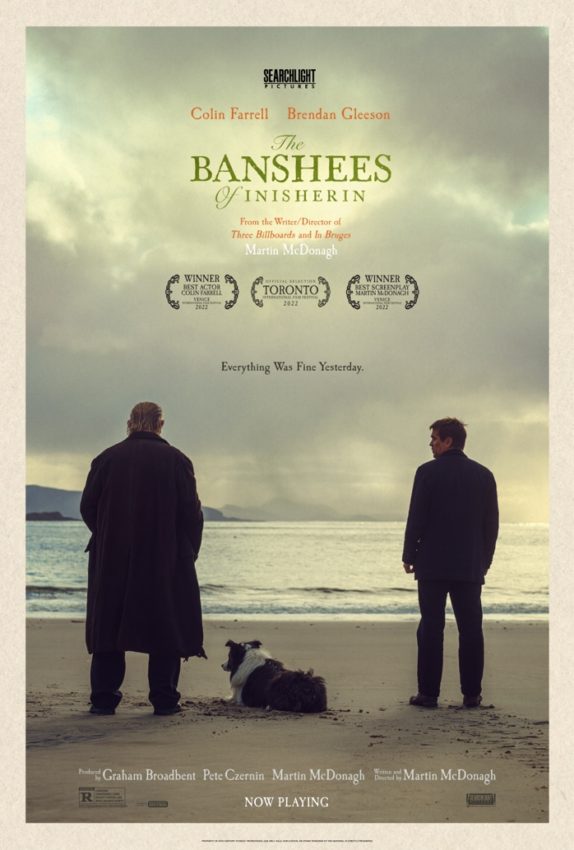 The Banshees of Inisherin was on at the local cinema the night after the Golden Globe event on TV. We decided to see it because Colin Farrell had won an award for his role in it. The film is set against the background noise of the guns of the Irish civil war. Innis Erin – Inisherin means the island of Ireland (Erin) and the lives of the few people on this tiny fabulous island who are apparently dull and boring, are as violent, passionate and dangerous as that of the warring mainland. I didn't know what it was about but I hoped it would be good entertainment. In its favour, it was also a 'Version originale' rather than dubbed. (C'est à dire dans la langue dans laquelle il a été tourné.) That turned out to be just as well because Irish -spoken English is poorly translated into rather dubious French subtitles.It is a brilliant movie.
There is beautiful Bulgarian music over the opening titles "Polegnala e Todara" 1975 – why I asked, did they choose to use that when there is plenty of miserable Irish music available? The fact is it suits the film because the film is not about reality at all. It is about a truth or perhaps several truths and fairytale truths are about universal truths and universal dreads. For example, it is a truth that as a writer I depend on you as a reader. Please, please subscribe to this blog, buy, read and review my books
'Oh, God!' I snorted as the film opened over abandoned pastures above high sea cliffs. 'This is Father Ted's Craggy island! Why flag up that brilliantly comic TV series at the start of the film? Will this film also be a joke? Was it to be the Irish madhouse known to Father Ted and Dougal? The story is set in 1923 but the Irish scenes looked charming and the houses pretty. There is even the end of a rainbow! The first woman who appeared was beautiful with long red hair. I know enough history to know that Irish poverty at that time had none of those things. Poverty in South Africa in the 60s was also ugly. The film, however, did have very funny comic moments of which the characters are oblivious.
I sank into my seat in disappointed misery expecting a romantic version of The Quiet Man with John Wayne but I was soon to realise that this was fairytale land even without the screaming of visible Banshees. Colm (Brendan Gleeson) tells Pàdraic (Colin Farrell) that he called his song The Banshees of Inisherin because he likes the sound of the 'she's together. The cries of Banshees warn of imminent deaths. Gleeson by the way composed and performed the diegetic Irish music for the film Diegetic, I learn, means that the music is not background atmosphere but part of the actor's role.
A fable about love and friendship
Most of the characters appeared to be deliberate stereotypes – the gossipy, nosey Post Office woman, the poisonous brutal policeman, the weird and ghoulish old lady who likes to terrify everyone, the tongue-tied boring men in the pub, the sinning priest – but of course they each have a place in the puzzle that all fables are. The acting of the main characters is powerful and unforgettable and real and believable. Colm voices for me the doubts and fears I have about my death that are part of my reasons for writing stories. Pàdriac voices my need for present friendship and intimacy. Siobhan, Pàdraic's sister (Kerry Condon ) voices my need to escape the small-minded and petty spites of daily life while Dominic (Barry Keoghan) speaks of my desire to be loved, despite being the idiot that I am.
Real life is a fable we live inside
Colm is a depressive and he decides to cut his friendship with Pàdraic at a terrible cost to them both and to his ability to make the music he loves. I once cared for and knew a man like Colm – fundamentally depressed but enormously gifted who also symbolically, cut off his nose to spite his face and in doing so destroyed people around him who loved him. First, he had to make himself vulnerable like Colm by removing the protection and love of a friend like Pàdriac who finally cannot forgive his undeserved hurt. 'The Irish civil war has ended but not the war in our hearts!' says Pàdraic. Like Harry and William, both hurt and damaged – at least they don't have armies except among their fandoms. Is there never an end – never forgiveness – never an end to our self-inflicted damage? Only kindness and generosity of spirit will help us.