The war to end all wars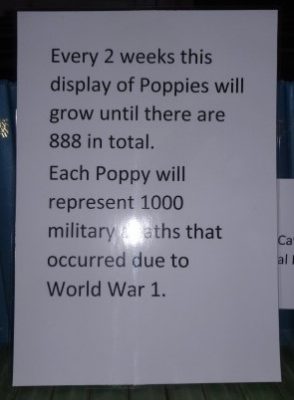 Tomorrow people in Britain will wear red poppies and visit cenotaphs, war memorials, churches and gravesides to remember those they will call the fallen heroes. In Germany they will carry Forget-me-nots, in France they will wear cornflowers. I will think of that song asking where have the flowers, the girls, the young men, the soldiers gone – gone to graveyards every one – when will they ever learn? This song composed by Pete Seeger must have been sung for over half a century yet wars still continue. What no one will remember tomorrow is that the war was not over in East Africa on the 11th November 1918 and that the Germans were not defeated in that arena. I'll write more about that on the 24th November 2018.

Never, ever, but again and again
While I was in England I visited Hilmarton Church and was moved by the way the community there are remembering the First World War in charming and sympathetic displays and crafts. There is a very gifted artist, Kate Slater, who has made 100 paintings to commemorate those from Wiltshire who served in WW1 and she will be working with local school children on the same theme. The paintings are lovely and evocative so please do take the time to look at her website. I always like to refer to a book when I write a post. All Quiet on the Western Front by Erich Maria Remarque is about the trench warfare endured by the Germans and the British and the tragic damage suffered by the soldiers. The Return of the Soldier by Rebecca West is also thought-provoking as is The Shooting Party by Isabel Colegate. All are excellent films.
But where is peace and an end to war?
I thought hard about war and peace and I found that I had conflicting ideas about what was appropriate to say. I might have quoted one of the well-known war poets but so will many other people. There are pacifist quotes but it would be hypocritical of me to use them. I might generalise and say that women oppose war but British suffragists joined the war effort while British suffragettes used violence to fight for the vote. Experience in Southern Africa has taught me that sometimes freedom can only be won by going to war and that withholding freedom is a form of war against those in bondage. War is always terrible but it can't always be avoided. Who knows, but if Britain and the USA had fought against Assad in 2013 perhaps there might have been fewer deaths and a shorter war?
Making peace last
Perhaps the real problem is that we only know how to make war and not how to make a peace that works. Here is one of Bertolt Brecht's War Poems.
THOSE AT THE TOP SAY: PEACE
AND WAR
Are of different substance.
But their peace and their war
Are like wind and storm.
War grows from their peace
Like son from his mother
He bears
Her frightful features.
Their war kills
Whatever their peace
Has left over.