For a child, facts are fantastical and fantasy, factual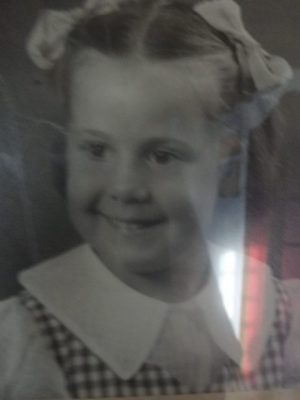 Somewhere in my infancy, there is a thick green privet hedge, clipped and trimmed to right-angled perfection. It encloses a perfectly square empty space brimful of desolation. It contains no house, no people live there and it is nameless. Its eternal position is located somewhere inside the fortnight when my mythical mother vanished forever, but returned immediately with the fact of my baby sister. I can only recall the hedge. Perhaps I did live inside it once long ago.
Childish ghosts
Years before my mother's disappearance, two time-travelling ghost children began to haunt my parents and stayed with them until they died. As a result, my mother had to be on duty each day to keep my sister and me from being harmed by them. As we could not be trusted to a nanny, we were left alone when my mother and her friends played tennis at the club across the road. Then Clare and I hid from each, and hunted the other, under the scruffy eucalyptus trees around the stick and straw pavilion where tea was served.Tea was made by two black men or boys. All I knew was that they had grown up higher than me and that they crouched down very low around the wood fire where the water was boiled and where my sister tested the flames with her first finger. Her finger blistered so I was smacked. That was how I learnt about cause and effect.
Out-of-bounds
The two of us were kept separate from the black people our parents employed. We must only go where my mother went. In the out-of-bounds kitchen there was a man who stood up to prepare our food. Also out-of-bounds was the small cement house or kia where he lived. It smelt of smoke and the walls were stained with soot. There he sat on the ground to cook food for himself in a big black saucepan on a charcoal fire. Once he gave us mealie pap to taste. We pulled faces, and laughed and ran away just as we were supposed to do. Once there was a black woman in the kitchen and I came in to stare at her. She laughed, then showed me a trick. With her finger, she rolled her top eyelids over and up. They looked like raw pink wounds on her dark face. I screamed and once again ran away, my heart pounding.
"No, she didn't hurt herself." my mother answered.
Chiefs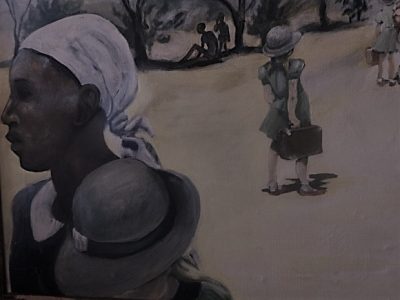 The servants addressed my father as Inkos, while Clare and I were called the Inkosikas. My mother was either Inkosi or Madam.
"What does Inkosika mean? " I asked.
"It's polite," my father said somewhat shamefaced, "It means you are the children of the chief."
"Oh," I said. It sounded like one of our pretend games.
"Inkos means Chief." my father added.
I didn't believe my dad was really a chief because, at that time, he had a job in town.
Fixing Dad
Once my dad messed up something he was supposed to do and my mother was quite forgiving about it. She smiled at my sister and me.
"I'll have to fix your dad won't I?" she said.
I frowned. The only thing I had ever seen fixed was the punctured car tyre. For a while, I was very concerned for my father. Would he really have to curl up in a ball with bolts holding him together while he was rolled around in the car boot?
I knew he often got things wrong because he was deaf and a man. Sometimes he forgot about me and Clare altogether because our voices were too high-pitched for him to hear. He forgot to collect me from school one day so I started to walk home and that made him very cross.