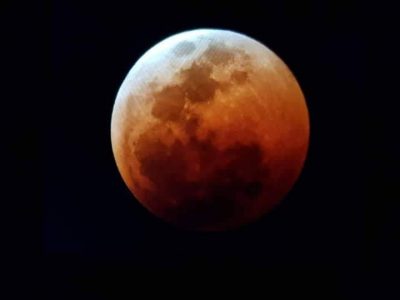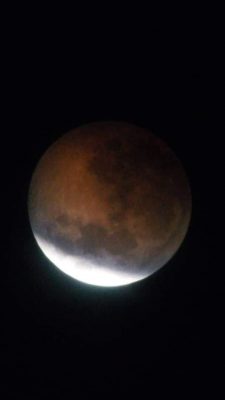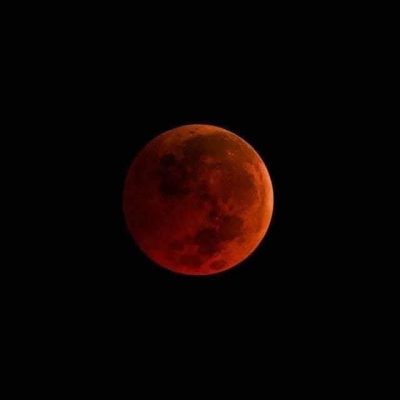 On a routine night the ordinary moon swims through a shoal of cloud.
It slides upwards as blotches of water vapour in saturated air slip away eastwards.
It's a dead ball of dirt whose dust
was kicked about by two astronauts in 1969.
Held in place by Earth's gravitational pull, it circles our planet,
one side dark as the space behind it, the other facing me always
keeps waxing and waning again and again.
I stare back.
Eye it.
Eyes blur.
I wipe my specs.
Bright-light neighbours
BAR BE QUEing
A walnut tree (Juglans nigra) black-blocks my viewing.
Son in Lusaka posts a pic.
Daughter in England taps out WOW!
Drought's end obscures the Welsh sky.
The dead red Sky stone
looks quite 3D
like the one on TV.
Time spins slowly
I SEE THE SHADOW
OF THE EARTH EDGE OVER TO MARK OUR PLACE IN SPACE.
THE MOON FLARES momentarily
and the eclipse ends.
– please let the light that shines on me – shine on the ones I love –
Captives of the Internet, to Facebook in thrall,
The extraordinary moon shines on us all.
Photos of the lunar eclipse taken by Alessandra Troielli on a farm near Lusaka, Zambia.
Thank you, Alessandra.
I got out of bed at 5.30 am to write this poem and thought of the poets I love and admire – Pascale Petit, Brian Bilston, Elodie Olson-Coons, George Szirtes, Tanvir Bush and many others – hope the moon shone on you all!