How to be your own publisher
I don't know what I'm doing! I'm learning on the job and wondering if what I do is make mistakes and then recover from them. The learning curve I'm riding gets steeper and deeper and the pressure to do it all at once keeps on mounting. Yesterday I was sent a cover design and a typeset sample of my next book. They are linked, of course. The font on the cover is used for the chapter headings inside. This is critical. Do I really like it? My designer, Spiffing Covers, tells me that he wants to brand all my books in a similar way. What does this mean? What do you – my readers- think of this idea?
Branding Ruth Hartley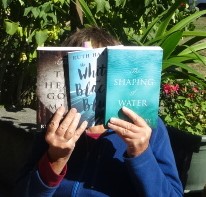 What is being branded? Is it me the writer or Ruth Hartley's books, or both? When I sold art in Zambia I discovered that art patrons often felt they had bought a large chunk of the artist too. Do readers feel this way about writers? I'm always curious about the writers I read but then I know that writers write about what matters most to them. It's true that any really good book can stand on its own but in the present world of social media mash-up everything gets whizzed into the mix. If it's me, I hope I don't come out as gloop! Well – if you want to know who I am – see if my books can tell you that! Once you become famous your readers want to know what you eat and what films you like plus more intimate details – then you get trolled too!
Fame is not fun! Put that on your bathroom mirror! Not something that worries me yet!
That indefinable, ridiculous, categorisation – "genre"
The writers I love can't be categorised. They are writers like Angela Carter, Ursula Le Guin, Doris Lessing, Salman Rushdie and Jeannette Winterson who write literature and refuse genre labelling. They are, of course, so well-known that all their books need to do to sell is to sit on a book shelf under the writer's name. Unknown writers like me have to be put into a genre to be marketed and we have to make that genre obvious on our book covers.
This is my new imprint – ATypicalBooks.com
What do you think of it? I will be publishing my books under this logo in future. I think the logo hints at what it means but in the end what matters, is what you think it means so your comments will be appreciated. Please do tell me what you think. Does it reflect the writer I am and give you an idea about the  genre I write
Here, too, is the cover of my new book, The Love and Wisdom Crimes which will be out before the end of the year and which will be published at the same time as the poems from The Spiral Bound Notebooks that inspired it.
Book covers are important as Emma Darwin writes in her blog.