Gabriel Ellison
Gabriel Ellison, MBE and Grand Officer of Distinguished Service, was a very private person. You would never have guessed from her manner what an important role she has played in Zambia or that she was decorated by both the British Government and the Zambian government for her services to the arts in Zambia. She worked tirelessly all her life and did everything to the highest standards possible. She was a writer, artist, designer and loved to cook. Zambia was the country of her birth and she was devoted to it and known all over the world for the beautiful Zambian postage stamps that she designed.

The artist and designer
I personally, never knew Gabriel well but I did know that she was greatly respected by my friends in the arts in Zambia and that they valued her friendship enormously. In spite of her quiet, and rather reclusive life, her art is to be seen everywhere. Gabriel had painted murals at the Lusaka Airport and in many other public places. Every time you saw the Zambian flag or the Zambian coat of arms or any Zambian stamps you were looking at a design made and executed by Gabriel Ellison.
Celebrating Zambia and its women
For years I assiduously collected her stamps, first for my own children and later for my grandson. Gabriel was also a writer and it is to my shame that I never collected her books. Gabriel Ellison is featured in a book of Zambian women – Women Celebrated compiled by Marsha Moyo and supported by the Royal Norwegian Embassy and the UNFPA. The photograph is by Franςois d'Elbee. It is one of the remarkable facts about Zambia that it has been a country in which so many different and talented people were able to contribute so fully and so happily. Gabriel Ellison is testament to that.
I am today, adding this link about Gabriel's beautiful stamp designs, thanks to James Gavin of the Rhodesian Study Circle.
Art In Zambia
One of my most prized possessions is a book written by Gabriel Ellison called Art in Zambia. It was produced by the Zambia National Visual Arts Council and sponsored by the Finnish Embassy. I am very proud to be included in the book albeit under my married name. The painting is an expression of my fears for a future where climate change causes droughts and migration which affects most of all, women and children. I painted it more than 20 years ago. The painting is in the possession of Cynthia Zukas, a friend of mine, and also of Gabriel. Cynthia set up the Lechwe Trust and is devoted to supporting Zambian artists.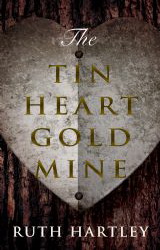 The time that I spent in Zambia working in the arts is perhaps one of the most important times in my life. I have tried to capture some of that significance in my book The Tin Heart Gold Mine in which my heroine, Lara, tries to make a living from art in an African country and meets artists struggling to do the  same. There is much I owe to the artists of Zambia that I hope comes across in my story.