London's South Bank Centre and the River Thames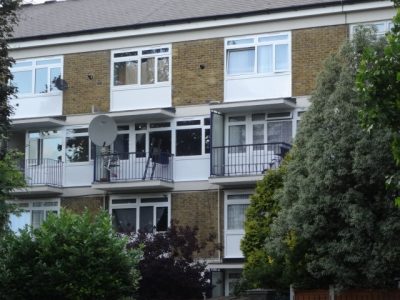 Writers write about what they know. Even an imagined world must be thoroughly experienced and known to the author of a book.
At the start of The Tin Heart Gold Mine, Lara, the main character of the book, lives in London and in a part of London that I loved, so naturally I used my own experiences as settings for the story. On a recent visit to the city I took some photos of the places known to Lara that are mentioned in the book and I thought that I would take you on a journey to introduce you to some of Lara's London.
First is the flat where Lara lives with her husband, Tim, and her son, Adam. It's modelled on a flat in this block.
Crossing the River Thames  to the South Bank Centre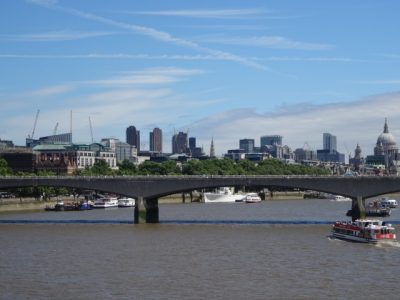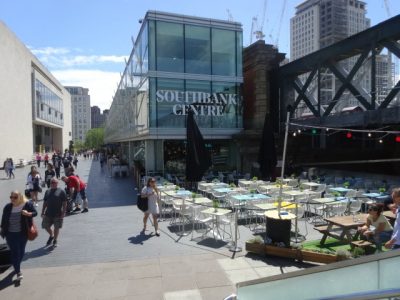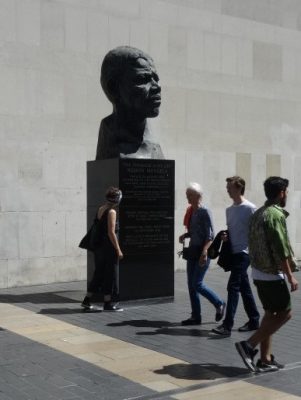 Lara's husband, Tim, and son, Adam, are making a trip across London to have lunch at the South Bank Centre.
Lara goes with them in spirit across the Thames to the restaurant near the famous bust of Nelson Mandela made by Ian Walters.  She sees the river as potentially dangerous, as it often can be. What Lara doesn't know, but I do, is that when the bust of Mandela was first installed there was an outcry declaring it a travesty because Mandela was still seen by some in government as a terrorist who had been justly imprisoned. Mandela is one of my longtime heroes, as he is of many other people. At the time it was erected there were no contemporary images of Mandela because they were banned so Lara is right to think it isn't an exact likeness. It is however, a very powerful statement and as such, it was frequently attacked by racists.
Seizing the moment and searching for readers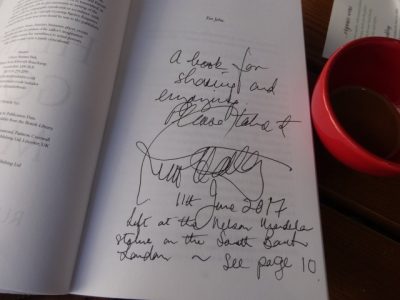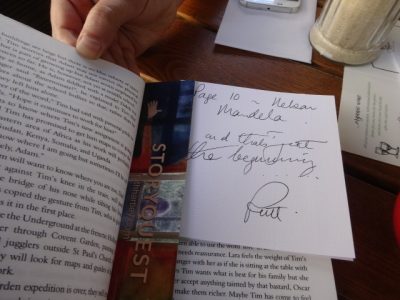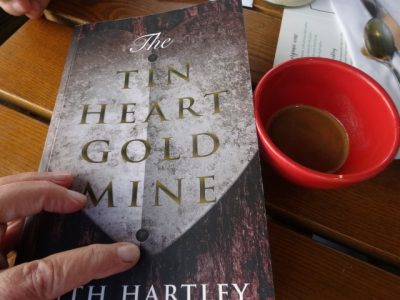 It is very hard as an Indy author to get reviews, to get publicity, and to find readers, so I decided on the quirky plan of leaving a copy of The Tin Heart Gold Mine by Mandela's statue with a note about the fact that this place and the bust of Mandela are mentioned in the novel. I did just this, and here is the photographic proof – wouldn't it be wonderful if someone – anyone – picked up my book – read it and enjoyed it! Even better if they said so and passed the book onto to another reader – that's what I need more than anything – readers!
My hero, Nelson Mandela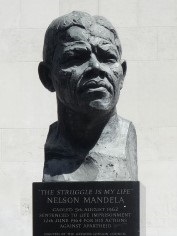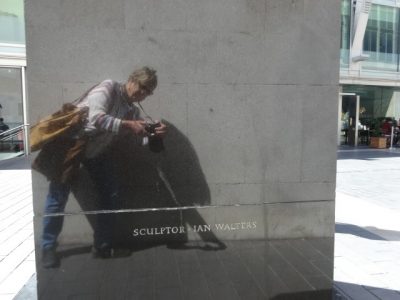 Here is the bust of Mandela and here am I, too clearly reflected in the marble, taking a photo of the sculptor's name at the back of the base.
For those of you who are writers, Emma Darwin blogs about using real people in novels in her This Itch of Writing. You may find it interesting as I did.