Andrew Verster, the best teacher I had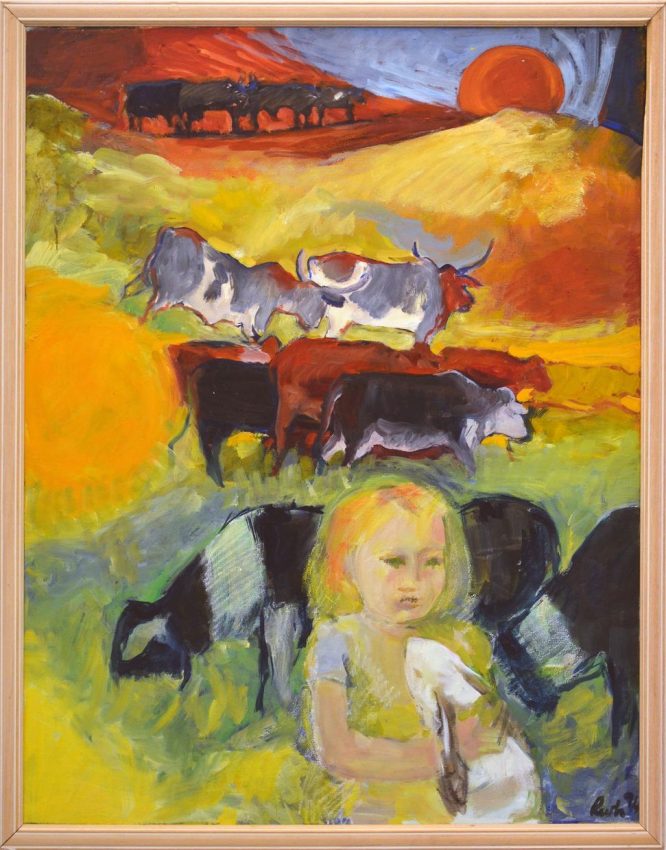 Andrew Verster died on Sunday 16th February 2020. In 1964, After graduating from Camberwell School of Art and Reading University, he taught me painting at the Michaelis School of Art, University of Cape Town. He was a wonderful teacher – one whom I will never forget because of his kindness and the attention he gave to all his students and to me. I think of him whenever I paint. I graduated that year feeling very discouraged by apartheid and left South Africa for London soon after under difficult circumstances. (I've written about it in my memoir.) Many years later I would be working with Joan Pilcher, Patrick Mweemba and Cynthia Zukas as co-directors of the Mpapa Gallery in Lusaka, Zambia. Cynthia and I had both studied art at the Michaelis, though some years apart. Another thing we have in common is our radical politics and mutual friends in the ANC, but every one of us at Mpapa was against apartheid.
Anne Hyatt, artist, and friend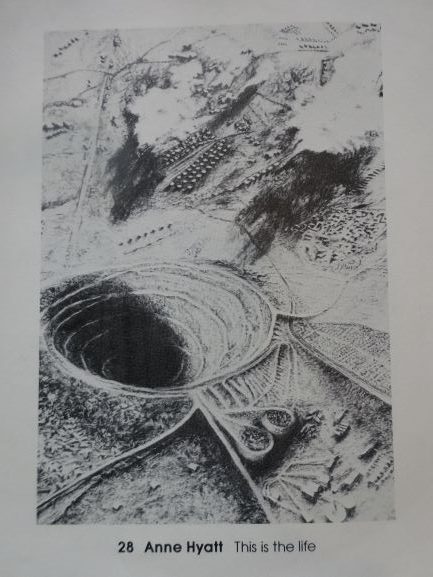 By chance the day I heard that news of Andrew's death, I picked up a 1985 dissertation by a Zambian friend, Anne Hyatt, who was then studying art at DUT, then the Natal Technikon. I saw that Andrew was her external examiner. Anne's drawings from her course were exhibited at the 1988 Cape Town Triennial. I managed to see them in Jo'burg in 1989 and I wonder now if perhaps they should come home to the National Collection in Zambia. Anne was a Zambian who contributed enormously to Zambia. She played a very important role in the early days of the Chongololo Club as an artist and the instigator of wildlife education for primary schools. In her dissertation, Anne was exploring the attempts by South African artists to understand their place and time through the subject of landscape. Inevitably Anne raised questions about the effect of colonialism on Southern Africa and also the important differences between the opportunities for black and white artists and the art they were able to make. This resonated closely with my experiences at Mpapa Gallery, Zambia, from 1984 onwards, even though our gallery operated very differently to art galleries in apartheid South Africa.
Art and apartheid
Andrew was a multi-talented creative, a writer, designer, poet, and playwright. He designed the artwork for the Constitutional Court in Jo'burg and among many roles, he was a trustee for Artists for Human Rights. Anne quotes Andrew's words that "white" artists cannot comment by proxy on "black" experience under the "very unhealthy" apartheid regime. Andrew also said that if "art does not surprise, enlarge, extend consciousness, or something – it isn't worth the bother." Anne commented that many South African artists did make art "worth the bother". Andrew himself was typical of those South African artists who made art that resisted apartheid. That fact was also evident in the Arnolfini "Earth and Everything" Recent Art from South Africa exhibition at Firstsite, the Minories in Colchester in 1997. I gave a school workshop there and the exhibition gave me an excellent opportunity not only to talk about the artists' materials and intentions but to clearly demonstrate the evil nature of the apartheid system and show how it oppressed black artists rather than white artists. It is important to be clear at this point that apartheid was imposed not by a colonial regime but by a tribal group of white South Africans on other South Africans.
Colonisation by the internet and falsifying history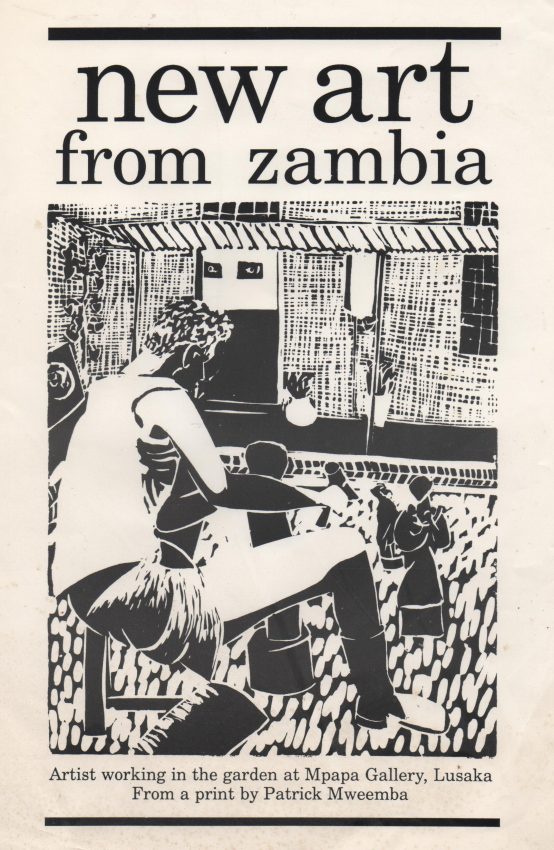 Bacteria and humans colonise environments. We can't help it – it's what we both are designed to do. We are also colonised by the internet and though this is both good and bad it does mean we have to be careful about what we are told to believe is a "true" history. South Africa's history of oppression under apartheid is dreadful. It is, however, quite mistaken to think that the history of Zambia and the history of artists and Mpapa Gallery can be viewed through a similar prism to that of South Africa and be interpreted as colonial. The facts make that impossible. I'm a writer and artist. Suppose I painted a summer landscape and then decided I want it to be winter and so covered the whole canvas with white paint – or suppose I wrote a carefully constructed detective story with believable characters and then changed the ending so it made no sense – that's what would have to be done to falsify the story of Mpapa Gallery's role in supporting Zambian artists, as so many of them have said and acknowledged in writing.
Mpapa Gallery's story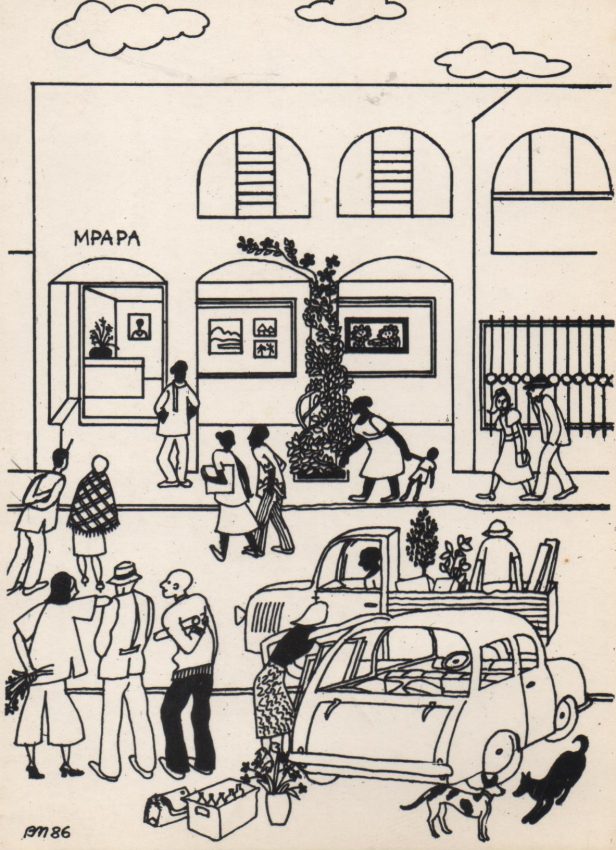 Zambia's fragile start to independence was 15 years old when Mpapa Gallery opened. Zambia was a Frontline State supporting the liberation of Zimbabwe and South Africa at a tremendous cost to its own economic and political stability. It had very few arts graduates, no national gallery, an impoverished government cultural department and art teaching course, and the only existing market for art was occasional tourists. You had to be mad to open a gallery in Zambia unless you were a believer in Zambia's future, in its artists and creativity, and in the dignity and freedom of all people that is necessary for creative expression. We, Joan, Cynthia, Patrick and I, were those mad, anti-colonial, anti-apartheid, art-crazy, radical risk-takers and volunteers working without pay for Zambian art and artists. It was tough – it was rewarding – so thank you, Zambian artists, for making it worthwhile!