Why I cried about who I might become
"Why do you want to become a French citizen?"
I was asked this question at the end of a gruelling two hour naturalisation interview. I burst into tears.
"It's such a difficult and important decision," I replied, sniffling. "I've had to leave too many places I thought of as home. I want to live somewhere that I know to be good and just."
I might have added "and that will accept me as a citizen".
I might have asked "What other option do I have?"
It's a long story that I'll keep short
I was born a British citizen in the Colony of Rhodesia. It was my home and I loved it. As I grew up I hated its racism. so when Rhodesia declared independence from Britain I chose to swear an oath of fealty to the Queen and remain British. I was working in South Africa then. Cape Town became my home and I loved it. As I wasn't a South African citizen I had to report to the police routinely. That was okay. I was treated well because I was white. In fact, in those days, curious as it now seems, I would have put "European" instead of white on my immigration form. As events panned out I had to leave South Africa. I arrived in Britain clutching my British passport, grateful to be accepted in a place where the rule of law protected me. It became my home and I  came to love it too. Next, I lived in Zambia. It was my home for 22 years and I came to love it in turn. I wasn't able to claim residency or citizenship, which made me sad. At the same time Rhodesia became Zimbabwe. I would have chosen to claim my birthright as a citizen of Zimbabwe but Mugabe denied me that right. I remain proud to be British but that has become complicated because I now live in France. I've always been a European, not because of my skin but because I'm British.
My family and their Empire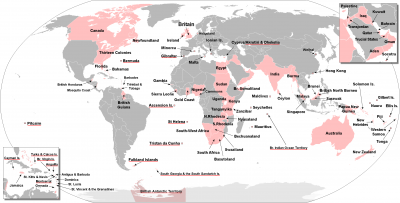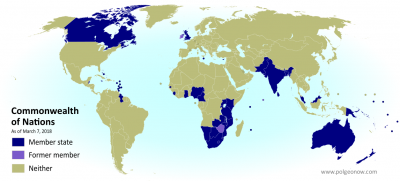 I was born into the British Empire. I own a silver teaspoon made 100 years after the death of Cecil John Rhodes. On the handle is a  map of Africa that was once mostly enamelled pink.  My father fought for Britain in Abyssinia and Kenya, my uncle in Italy, my stepfather in Malaya. My grandfather worked in Argentina, my great-uncle travelled to Japan. My ancestors were Germans who fought for the British in the Crimea and British who fought against Napoleon in France. They all emigrated to British Kaffraria in South Africa. They all did what they needed to do to make a living. They all believed that in the end their actions were justified because they it made the whole world a better place. They lived in a physical world where the names of countries, their borders, and their security situations were always changing.
Citizen of the World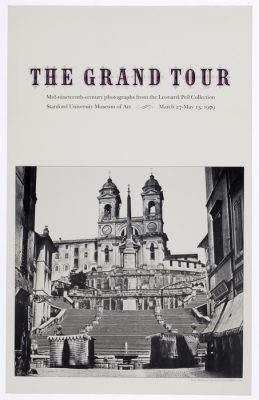 "What does 'sophisticated' mean?" I asked. My mother gave me a sideways look. I was only 9.
" It means that you know about the world – you're worldly-wise."
"Ooh! I want to know all about the world!" I said wide-eyed. Mummy raised an eyebrow.
As young 'European' colonial I expected to travel and see the world on a Grand Tour. That meant visiting Rome, Paris and London. It was all my heritage.
Citizens of Nowhere – artists, writers, poets, and dissidents
We also lived in a cultural world that was wider and greater than any nation. We loved the music of Beethoven, Chopin, Copland, Elgar and Britten. We read, albeit some in translation, Tolstoy, Cervantes, Rimbaud, Hugo, Dumas, Voltaire, Sartre and those great Europeans, Shakespeare and Dickens. Many artists were also dissidents and refugees, some even criminals like Caravaggio. The point is that in the world of ideas, of the search for beauty, for freedom, for justice, for equality, for brotherhood, there are no borders, only the need to share and to communicate. Here I have some portraits of exiles who found a refuge in France, Britain and the USA.
Freedom, Equality, and Brotherhood – Liberté, égalité et fraternité. Protection of our right to work, to live, to health and education regardless of gender, disability and sexual orientation – these are what we want as citizens, as Europeans, and as British or French nationals. That and freedom of movement for ourselves but – if we want that for ourselves, then surely every person should have the same.
'Her Britannic Majesty's Secretary of State requests and requires in the name of Her Majesty all those whom it may concern to allow the bearer to pass freely without let or hindrance and to afford the bearer such assistance and protection as may be necessary.'