Reviews: The Love and Wisdom Crimes
Invitation to Review
Have you read Ruth's books? Or seen her art?
Your reviews help others to assess whether they might enjoy the work/s. They could also start some interesting conversations! And you might contribute to the artistic process. Ruth values all feedback and considers it when revising or creating work.
Yes, I want to review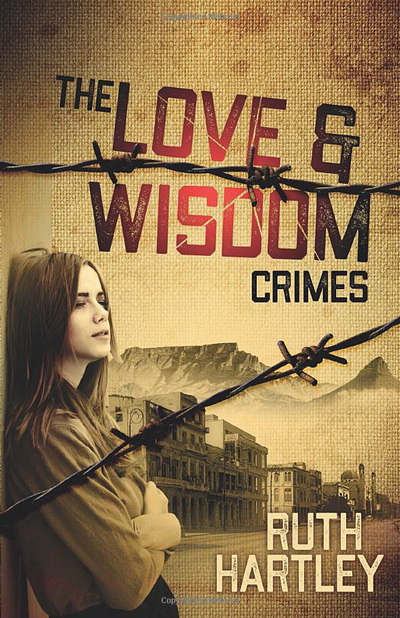 Political thriller, love story, ode to South Africa, quest
The Love and Wisdom Crimes can be read on several levels: as a political thriller, a love story or an ode to South Africa, but it is also a 'quest' book.
We travel with Jane, a married mother, and her battered spiral-bound notebooks in which her youthful self confided, from her safe and secure life in London back in time and place to find that younger self, and just as importantly, the influential friendships which helped her grow and with whom she became involved in anti-apartheid intrigues so many years ago. These people, places and events have left a lasting, if submerged, influence on Jane and, four years after the release of her hero Nelson Mandela, something slumbering deep inside awakens, takes her by the hand and leads her back on the trail of discovery - to find old friends if she can, to re-visit the country she loves, to meet her younger self and try to understand just how she has become who she now is.
The story of Jane's development as she travels from the peaceable, silent life at the home farm into the city, where she is catapaulted into involvement with an underground anti-apartheid political intrigue, is told with a skill that draws the reader in as we hold our breath for her and her friends. But there is also a lyricism to the writing which points up the contrasts of Africa, the sheer beauty of the country and the terrible ugliness of the politics.
Throughout the book Jane questions: herself, her feelings, her relationships - young Jane fell in love, fell in love again and finally had to leave the country for England - the morality and ethics of that younger self, as well as her current, older self. There is a constant shifting between these time-scales, at once nostalgic and regretful, uncertain where truth lies.
I found that reading the small volume of poetry - The Spiral-bound Notebooks - alongside the novel brought a deeper understanding of what Jane, and indeed all engaged and aware South Africans, lived through during the 40-odd years of segregation, though the poems are not just political, they are also full of awe and wonder at the beauty of the natural world. Whilst each of these books can stand happily alone each complements and enhances the other.
Claudia Naydler, 27 September 2019