Failing brakes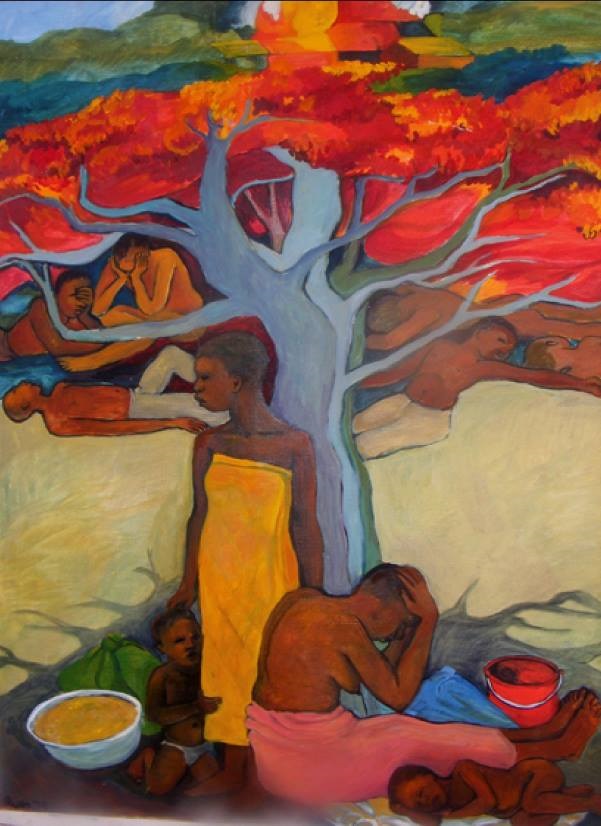 We were heading home after collecting our new Ford company car in Johannesburg which was then a dreadful place of police brutality, political protests and necklacing. Our long journey to Zambia was planned via a family stop in the Zimbabwe Lowveld. Clearing customs at Beit Bridge had taken hours so I was giving my husband a break from driving when some giraffe crossed the road ahead.
"You need to brake sooner," my husband said.
"The brakes aren't responding properly," I replied. "Would you like to take over?"
My husband took over the driving and we turned towards the lowveld in the late afternoon. On a long slow bend, a young bullock left its herd and plunged across the road.
The crash
My husband stamped on the brake pedal but nothing happened. In desperation he pulled up the handbrake and the Ford went into a spin crashing first against the tyres of a parked container lorry and then rebounding into the opposite ditch under a marula tree. The contents of the boot were flung out in a wide circle, many metres from the car. My husband, hanging onto the steering wheel, was safe and, by a miracle my 9-year-old son sitting at the centre of the spinning car, was unhurt. I was concussed by a blow to my head from the door frame and collapsed in a heap on the ground as some Zimbabwean villagers came out to help. I managed to give my brave son my Filofax with my sister's phone number in it and a villager guided him over a mile up the road to the only phone at the school to call for help. There were no mobiles then and we had no torch. It was pitch dark when they both returned an hour later. Meanwhile my husband scoured the bush for burst suitcases and groceries and a kind woman sat down by me and let me hold her hand for comfort. It was another hour before my sister came and was able to rescue us.
Crime scene
The next day, my husband, brother-in-law and his friend, a mechanic, returned to collect the wrecked car. The mechanic examined the car, turned to my husband and said, "The brake line has been cut. You had better photograph it. Someone wanted to kill you!"
Why us? Who did it? Was it something I had caused? For months afterwards I was so stressed and afraid I could hardly keep my eyes open at work. I was sure it was my fault. I had nearly killed my family. It couldn't be a coincidence or an accident.
The anti-apartheid exhibition – a cause?
A few months previously, Mpapa Gallery had put on an Anti-apartheid exhibition inspired by Cynthia Zukas who had brought back from London fabulous anti-apartheid posters made by famous artists for the Red Cross. Mpapa Gallery exhibited and sold these together with themed anti-apartheid paintings and prints by contributing Zambian artists. It was, perhaps, Mpapa Gallery's most overtly political exhibition. I wasn't in Zambia for the opening night but I was at the end event when Cynthia donated the funds raised by the gallery to Alfred Nzo of the ANC to the nursery school for South African refugee children. Thabo Mbeki, later South African president, was there too. Was this event the reason the Ford's brakes were cut? I don't suppose I'll ever know. It was a risk for me to visit South Africa with my history but I had family and friends there and my husband's job, managed by a South African company, required visits there. The accident was never investigated by his employer. At that time in South Africa, some Ford cars supplied to the police force had their brake lines cut on the production line by black workers. It was a common assassination technique.
Political agenda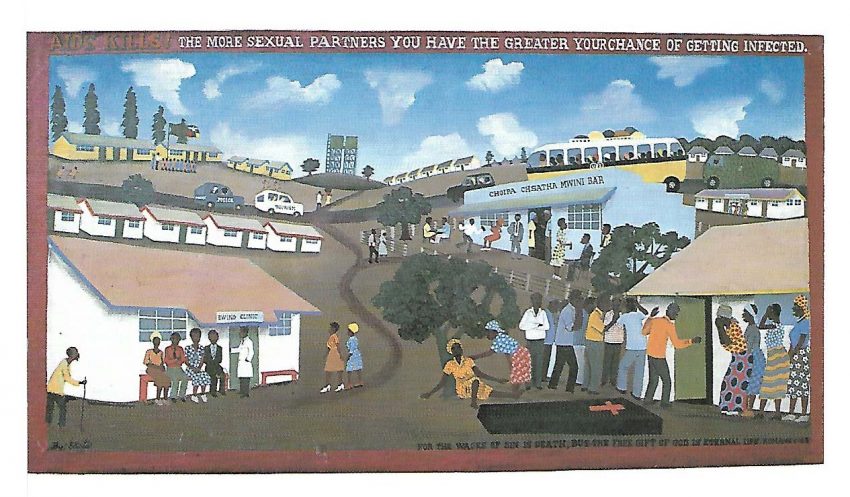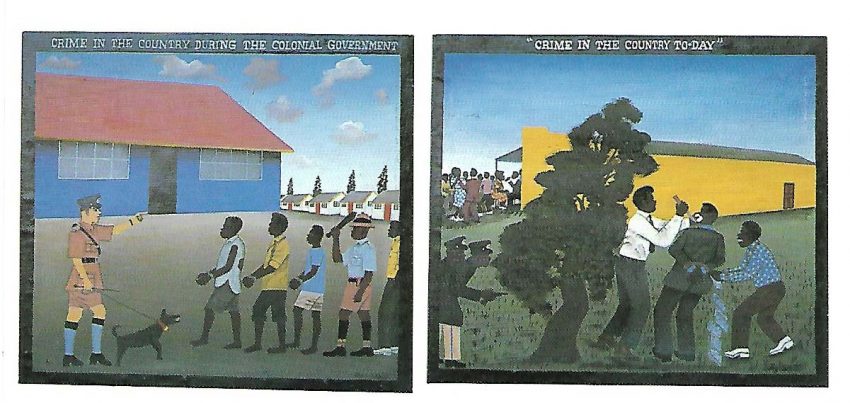 Mpapa Gallery had a strong political record. Joan Pilcher had taken the advice of Barbara Masekela, later head of the African National Congress Arts and Cultural Department, when setting up the gallery. Cynthia joined the ANC at art school and exhibited drawings made at an ANC meeting. Henry Tayali was also a political artist and neither he nor Patrick Mweemba would have worked with us and advised us if they thought we had colonial attitudes. My own political history is documented in my memoir When I Was Bad. Before I started work at Mpapa Gallery my political painting about the Chikumbi bombing was bought for the Zambia National Collection in 1980. It is the artists Mpapa exhibited, however, who bear testament to our political beliefs, Tayali and Stephen Kappata being the most obvious. Mpapa Gallery also worked with Trev Ford – a political cartoonist. One Mpapa exhibition was devoted to an international collection of political cartoons including anti-apartheid cartoons and some of his. I knew that this exhibition would upset some people.
Zambia and political dissent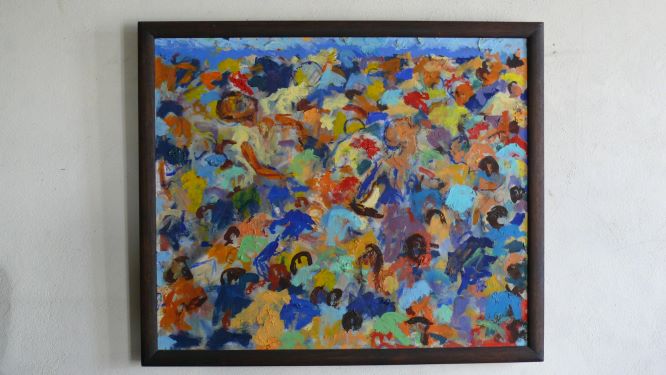 What is forgotten about the years before the end of the Cold War and the election of Nelson Mandela as South African president is the very difficult position that Zambia was in. President Kaunda's courageous support for the liberation of Zimbabwe and South Africa went against Zambia's economic dependence on both countries during that period and made life hard for ordinary people. Many expatriates in Zambia were white South Africans with no sympathy for liberation causes. There were South African spies and agents around. The region was seriously destabilised by the Cold War and with that knowledge the Zambian government did not take kindly to criticism.
Freedom of expression and the rights of artists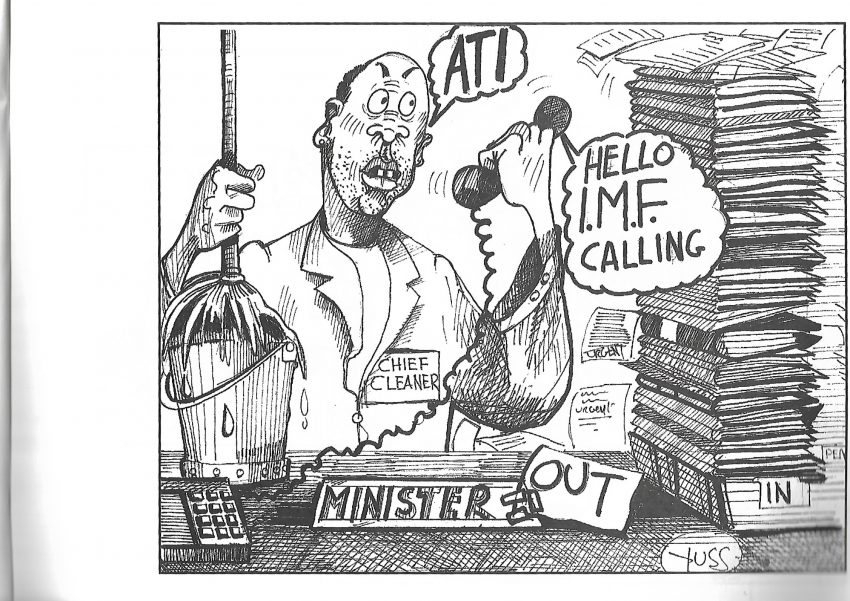 Zambians like to speak their minds, however, and Stephen Kappata and Trev Ford used their art to criticise their own government. Colonial issues were no longer significant, except in their impact on Zambia's neighbours. Mpapa Gallery did not only have an anti-apartheid agenda but supported the right of artists to express themselves, even by political criticism if they chose. One brilliant satirist of that era wrote under the pseudonym of Kapelwa Musonda. It has to be said that Zambians have a great sense of humour and fairness so I feel sure that when the art history of Zambia is finally written, Mpapa Gallery will be recognised for its role in supporting and developing art in an independent democratic Zambia. Nothing less will do if artists who exhibited at Mpapa Gallery like Henry Tayali, Stephen Kappata, Trev Ford and many others are to be given the honour due to them.
'Car Crash'
I include here a poem I wrote about this car crash caused by the cut brake line. It is published in my book of poetry, The Spiral-Bound Notebooks.