Reviews: When We Were Wicked
Invitation to Review
Have you read Ruth's books? Or seen her art? Your reviews help others to assess whether they might enjoy the work/s. They could also start some interesting conversations! And you might contribute to the artistic process. Ruth values all feedback and considers it when revising or creating work.
Yes, I want to review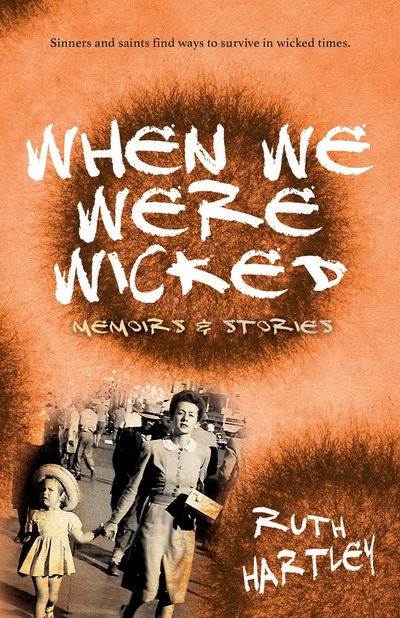 Review by Michael Holman, 2021
Dear Ruth,
I have made it a rule not to review books by friends but every now and then, rules may be broken...
And so I am writing what is a cross between a review of When We Were Wicked and a letter to the author. You are welcome to do with it what you will.
The short story that led to my breaking my rule was "Not in Front of the Children: a memoir".
What struck me was the lean style which gave it an authenticity, helped by your acute and sensitive selection of detail - such as your mother 'winding the windows until they were almost shut.'
The sparseness of your prose also strikes me as the product of years of writing, shaping and moulding words and phrases, and mastering that art called 'writing'.
"Useful Martyrs" is another example of the way your style has changed over the years as you have learned the trade we share. It also strikes me that you are your best when you are at your most personal — dealing with your experience of living in a brutal, sexist and racist society.
Your experience, rich and varied, shines through. But you have set yourself a Sisyphean task. No sooner than you have rolled the boulder of your experience to the top of the kopje than you discover new insights on the journey, and have to start all over again. You are both burdened and blessed by your rich and varied background. Writing is an itch one just has to scratch. In other words, keep rolling that boulder.
Michael Holman
Africa Editor,
Financial Times
1984–2002
Author of:
Postmark Africa: Half a century as a Foreign Correspondent, EnvelopeBooks 2020
Last Orders at Harrods, Polygon 2005
Fatboy and the Dancing Ladies, Polygon 2007
Dizzy Worms, Polygon, 2010